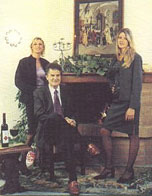 "... the winegrape harvest ended on Saturday 17th September 1881, and with great surprise I made 52 "castellate", I sold 32 of them at £ 125 and 135..."

This is what we find written in the "Diari Agricoli" of the Sacerno Farm in Calderara di Reno. Since the last century, as some authentic manuscripts testify, winegrape growing was very thriving thanks to the peculiar "black" calcareous clayey soil that characterized this area. The Bassi Family, through generations following one another, has skilfully kept that "culture" related to winegrowing, which is mostly a treasure of memory that has reached us through writings, diaries and oral reports. During the nineteenth century Enea, the grandfather, owned the biggest and most equipped cellar in Longara, a small village near Calderara di Reno. The cellar was called "LA FRATERIA" and up to 60,000 litres of wine were made and stored. They were then sold to cellars and inns located in Bologna. The old cellar has been enlarged several times through investments and the Bassi Luigi Cellar's real strong point is the use of modern equipment, maintaining all traditions. In the meantime, the property in the area around Calderara di Reno has been expanded, and subsequently in the "Trinzano" estate, on the hills of Riolo Terme and Monte Medola, and on the hills of Imola. All these areas had always been dedicated to winegrowing. The Bassi Luigi Farm is presently one of the most important winegrowing realities in the Emilia- Romagna region. The production of wines of superior quality has been achieved by paying attention and respect to traditions that have been handed down from one generation to the other, and also with constant research and diligence, and with the right selection of rootstocks, varieties of plants and proper pruning. Excellent results have been achieved and prestigious prizes have been awarded in the main wine exhibitions. All this thanks to the love for the soil, the respect of the territory, a constant technologic research, perseverance and great attention to processing as well as ecological treatments together with big investments in the vineyards (drainage, a modern and careful mulching useful in the herbicidal elimination). The cellar is daily followed by a team of oenologists who have great knowledge and experience. The constant updating of winemaking methods, research and technologic equipment, together with the passion the Bassi family dedicates to the winery can only lead to more and more prestigious targets. Projects and aspirations of this family, who is totally bound to the territory, to "the culture of soil", to daily work, but also to difficult engagements in the international market, are still many. The Bassi family's tradition comes from long ago, but it has projects and targets belonging to the future.

Original writings from the diaries of Luigi Bassi.