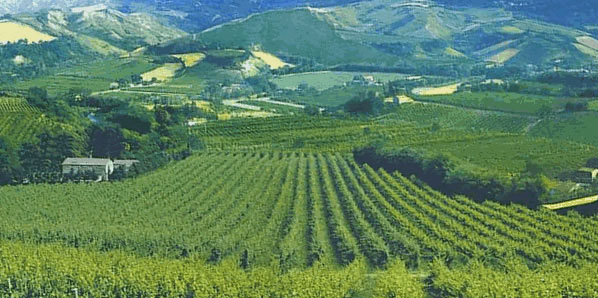 HILLS OF RIOLO TERME
These are typical lands of the preapennine hills of Romagna. It has always been the natural habitat for winegrowing. Here grapes benefit from a favourable sun exposure and from the winds which caress them gently. This is an ancient decarbonated soil because it was generated by the degradation of the autochthonous rock. This soil is rich in clay and structure, often not very deep, but quite fresh, thanks to the numerous surface groundwater tables, which develop in these peculiar kinds of environment. In these hills Family Bassi owns four wonderful farms: Tizzano Farm of 55 ha, Casinello di Miola farm of 27 ha, Casetta and Vruletto Farms of 30 ha in total. The high density of vines (6000 vines per ha) positioned at 70 cm from the ground, the very short pruning, the small harvest (60/70 q per hectare) and the careful and wise agronomical choices, allow us to produce prestigious and genuine high quality wines.
CALDERARA DI RENO
The area between Calderara di Reno, Longara and Sala Bolognese is characterized by lands with black soil (the so-called "Terre Nere" Black soils of about 90 ha), which are a probable last residue of the ancient preapennine hills and therefore very anomalous soils. The ecological environment, rich in clay, allows a contained vegetative development and therefore the production of grapes of great quality.
HILLS OF IMOLA
The Bassi Family owns also two marvellous farms in Imola: Biombo and Poggio di Sopra Farms of 38 ha in total. In these hilly soils, vines reduce their vigour and produce, so granting the complete ripening of grapes and consequently the high quality of wine.
GALLERY